Meet the Founding Members
Screen4rare was founded by IPOPI, ISNS, and ESID. These organisations meet regularly to set Screen4Rare's overarching strategy and guide the development of various workstreams within the initiative.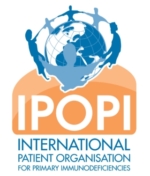 The International Patient Organisation for Primary Immunodeficiencies (IPOPI) is the association of national patient organisations dedicated to improving awareness, access to early diagnosis and optimal treatments for primary immunodeficiency (PID) patients worldwide. IPOPI acts as the global advocate of the PID patient community in all relevant policy, legislative and regulatory matters. IPOPI supports and represents numerous national member organisations in all world regions.
The International Society for Neonatal Screening (ISNS) seeks to promote the early asymptomatic detection of serious disorders of childhood by neonatal screening leading to life changing treatment. The 500 members of ISNS are predominantly scientists and doctors drawn from more than 70 countries around the world who are involved in the design and delivery of neonatal screening programmes. It supports a range of activities including symposia, publication of peer reviewed science and the dissemination of information and guidelines designed to develop and enhance neonatal screening and ensure the best possible outcome for children with rare disease.

The European Society for immunodeficiencies (ESID) is a non for profit association that was created in 1994. ESID has been striving to improve the knowledge in the field of Primary Immunodeficiency (PID) by encouraging research, developing educational programs and fostering cooperation among all those involved in the diagnosis, treatment and management of these diseases.